When you absolutely positively need to bring your own portable miniature sun on a camping trip, the answer is the Coleman lantern. Like their stove and their steel belted coolers, These have been a long-term staple of not just my camping experience, but my entire family's for generations. Infact, one of the lanterns I own is a vintage red coleman that used to be my grandfather's. It needs a bit of cleaning and repair, but I suspect once I get it cleaned up, I'll be passing it on to someone when my camping days are over. They're that reliable. In addition to the vintage one, I've got a silver one that I've had since my days in the boyscouts. This one, despite a nasty fall that made it a little picky about igniting is still going strong.
Like the Coleman Dual Burner Stove I
reviewed here
these lanterns run on either white gas or gasoline. Generally we've always run them on the coleman fuel which lasts longer in storage (I have seen cans of it remain useful for an incredibly long time) rather than gasoline from the pump. But having the option to use either one makes the lantern very useful. In the event of some sort of emergency situation, I know I can use it on whichever I have handy. While camping, if I run out, gas stations are a lot easier to find. It's also nice that it shares a fuel system with my car camping stove, and I only have to bring the one fuel source for both. Much like that stove, they seem to run forever on a tank of fuel. Even with the heavy use they can see while car camping with a group of friends, I rarely have to refuel them. with the clip-on mantles, I don't even have to worry about the hassle of tying them on.
These lanterns are a beacon in the darkness, and put to shame all of the lesser products I've seen. Whether I need the light to prepare food, administer first aid, read a book or play a game, you can easily drive back the night and flood the immediate area with light with one of these on high. I keep a cheap battery lantern around for reading and doing things in the tent but that absolutely pales in comparison. It may as well be a tiny LED keychain flashlight. I've played games, finished meals, told stories, and read books by the power of these personal suns, and though I always aim to arrive at camp and raise my tent before dark, if I HAD to set a tent up in the darkness, these lanterns would be perfect for doing so.
With such a powerful beacon though, there is the downside of drawing bugs. Not a big deal inside a screen tent, but I have seen everything from flies, mosquitoes and moths to grasshoppers and locusts drawn to its flame. Better the lantern than me though.
Would I recommend it? Emphatically! If you are car camping and do not own one of these, I would drop everything I am doing and proceed to
REI's website
to order one. You'll thank me. Your descendants will thank you. Your friends who camp with you will be amazed.
the picture doesn't do it justice, but here mine is (standing atop it's carry-box) at Blue Mound State Park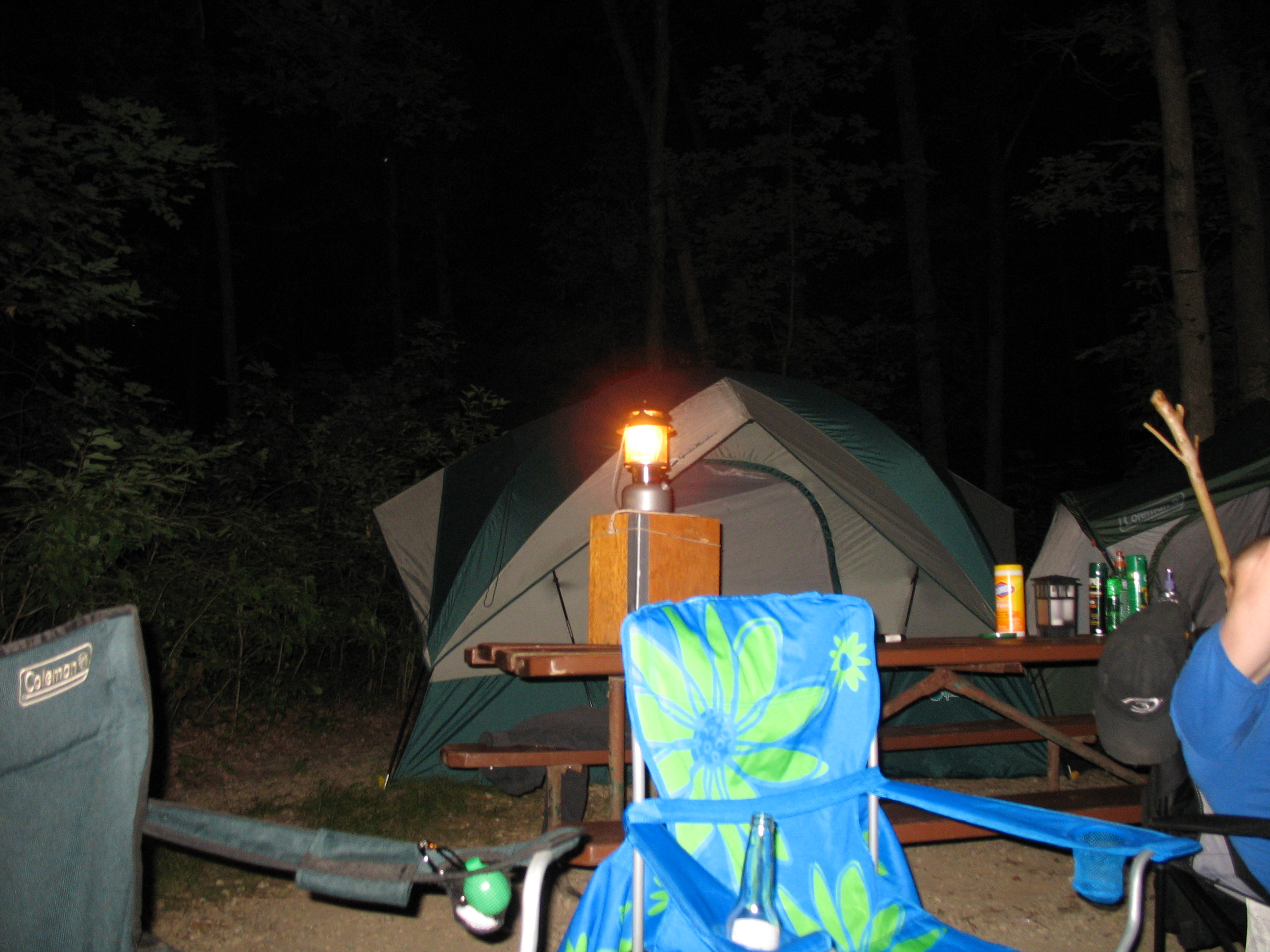 Unfortunately for most of my readers, the carrying case which serves both as a protective storage and transport method, as well as a fuel store and lantern stand is a Waldron family exclusive, designed and built by my Grandfather, who was a wood pattern maker. Inside is room for the lantern and a set of wood rails on the top which the nut atop the lantern slides into, holding everything in place.
Red Lantern with 2 burner stove and steel belted cooler: